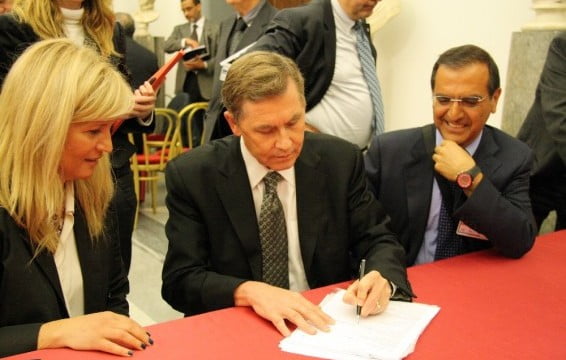 Multi-sectorial network for robodidactics
The objective is to stimulate and facilitate a farsighted process in the national economic system by combining the forces of all the key players in Italian robot science: industry, the services sector, universities, research centers, schools, and local, regional, and national government authorities. Synergy in action can foster a clear and definite awareness of the multiple career paths offered by robotics, from primary school to industry, and help guide students in the direction of careers in science and technology. The robot industry and services can orient the offers of education, training, and research in accordance with trends in robot science.
Robotics, another field of Italian excellence, brings benefits to society all across the board and can become yet another line of strategic development for smart specialization policies in Rome, the nation's capital in order to meet the Europe 2020 challenge.
In particular, the Memorandum of intent serves to:
officialize the meeting and reciprocal interaction between the activities of the government, industry, and university and the development of both the territories and the educational and training projects run by individual academic institutions;
develop in Italy an integrated training system capable of providing lifelong learning and skill acquisition thanks to the use of robot science and through a system of planning and governance of the training, research, and distribution offer throughout the territory. The system seeks the involvement of all the key players in the robotics sector through mutual sharing, also by linking the world of research and production to the academic and training worlds;
encourage the establishment of a integrated training, research and distribution system through the development of a project programming shared by all the signatories, the coordination and the circulation online of the resources and expertise of the various organizations, and integration with the training, educational, research, and work opportunities available in each local territory;
promote the constitution of significant groupings in each local territory with greater opportunities for access to public funding even at EU level and strengthen the offer made by every participating organization thanks to access to the resources shared by the system.
Materials and documents
Memorandum of intent for the creation of long-term national strategy for robodidactics
signed in Rome's Campidoglio area on March 16, 2011.
The agreement
[in pdf format]
Another two documents by Alfonso Molina, Vice-President of the Coordinating Committee of the multi-sectorial network for robodidactics in Italy are now available online and open to contributions from one and all:
The voices of the protagonists [video]