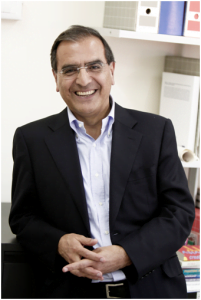 Alfonso Molina is the Scientific Director of the Fondazione Mondo Digitale in Italy, a non-profit organization created in 2001. He has a personal Chair in Technology Strategy and, until recently, he was professor at the Business School of the University of Edinburgh.

Alfonso has carried out extensive theoretical and practical work focused on the development of an environment or platform integrating academic theories, instruments of practical application, and projects on a variety of themes: technological and social innovation, industrial clusters, multi-sectoral clusters for territorial development, ICT-based educational innovation, and others. Research themes of particular interest include the mapping and governance of multi-sectorial hybridity in social innovation, knowledge-oriented non-profit organizations, smart regional specialization, and innovation and personalized collaboration in education.  Instruments of practical application include the "diamond of alignment," "evolving business plans," "evolving bottom-up roadmapping," "real-time evaluation methodology" and "dynamic strategy mapping."
Alfonso has collaborated as advisor and consultant for the European Commission and has published books, papers, reports, and models. He designed the original strategy for the Global Cities Dialogue, including the writing of its Helsinki Declaration now signed by over 180 cities from all over the world. He has worked with the cities of Rome, Stockholm and Edinburgh and he is former Chairman of the international juries of the Stockholm Challenge Award and the European Citizenship for All Award run by Telecities and Deloitte and Touche; and present Chairman of the international jury of Rome's Global Junior Challenge.
Alfonso led the creation of the Multi-sectoral Cluster on Educational Robotics in Italy, and he is currently Acting Chairman of its Coordinating Board.
Alfonso is also the creator of the pioneering innovation environment dedicated to youth Innovationgym.org and of its social virtual platform Phyrtual.org.