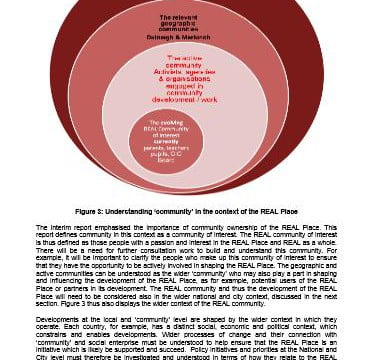 The REAL deal? The Application of a New Social Innovation Model
Carr, James; Molina-Fuenzalida, Alfonso; Wattam, E; Backhaus, M. 2011.
The-Application-of-a-New-Social-Innovation-Model (pdf)
Abstract
This paper employs Bessant & Tidd's (2007) model of innovation as a framework to present the findings of research/consultancy conducted by the authors on the Real Education Active Lives (REAL) Social Entrepreneurship project at Inverness High School in 2008/2009. It also suggests additions to Bessant & Tidd's model that will enhance its use in this context, and draws on a wide range of literature that includes Social Entrepreneurship, Community Development, Innovation, and Social Innovation. There are two main types of innovation: incremental (steady-state) innovation i.e. doing more of the same but doing it better, and radical / discontinuous innovation i.e. moving into new areas of operation (Bessant & Tidd, 2007). The REAL initiative is a radical innovation that involves the
establishment of an organic farm and product distribution network, and the proposed development of a new building with a social enterprise purpose, both based on the expansive school grounds. This is a much more difficult undertaking than, for example, making incremental improvements to traditional school educational activities.
A recurrent theme to emerge is the need to promote community engagement and ownership of the REAL initiative. It is believed that this will provide a firm foundation for the sustainable success of the initiative, and this view is supported strongly by other research evidence drawn from a diverse number of fields. Lack of inclusion is likely to lead to a lack of a sense of ownership of the REAL initiative, and will serve to undermine their effective implementation and sustainable potential. Thus further consultation and awareness raising with the REAL Community of Interest is of paramount importance
to its eventual success and sustainability.
Developing, managing and leading social innovation initiatives are uncertain and risky processes that involve many complex challenges. "Getting innovation to happen" depends on determined drive and enthusiasm from one or more leaders. It also requires the absorption of a new set of skills that are fundamental for the effective organisation and management of social enterprises. However, more and more 'win-win' social innovation projects are emerging that are able to achieve the triple bottom line of social, commercial and environmental objectives. Key challenges for the sustainable and successful
implementation of the REAL initiative are the need to focus on:
1. strong encouragement of pupil, parent and wider community ownership
2. the further development and launch of an effective marketing & communication strategy
3. the formation of proactive linkages
It is suggested that the first two items in the list above could be added to Bessant & Tidd's (2007) model of innovation to enhance its use in a social innovation and item 3. could be developed much more deeply through the application of Molina's (2010) Social Innovation hybridity concept.