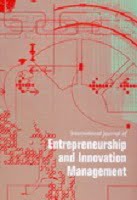 Real-time Evaluation Methodology as a Learning Instrument in High Technology SME Support Networks
Molina and Gregson. (2002) International Journal of Entrepreneurship and Innovation Management 2 (1). 69-99.
Abstract: This paper focuses on the philosophy and implementation of an evaluation approach used as a learning instrument in the evolution of a major enterprise support network in the UK Connect Scotland. The Connect real-time evaluation methodology has distinguished and assessed the value flows delivered by the program as perceived by its stakeholders. It has done so not in a post-mortem fashion but in real-time fashion (i.e., during the program), with the aim of capturing strengths and weaknesses and contributing to its further development. The paper discusses the importance of support networks for enterprise development, then looks at some of the concepts and limitations facing the evaluation of enterprise support networks. This is followed by a detailed analysis of the real-time evaluation methodology used in Connect Scotland, including an examination of the Connect program itself. The paper then summarises the key results of the value-flows of Connect as perceived by the stakeholders, before ending with a discussion on value for money and key recommendations.