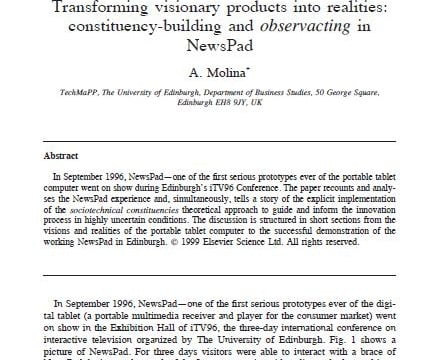 Transforming Visionary Products into Realities: Constituencies-Building and Observacting in the Case of NewsPad
In: Futures, Vol. Vol. 31, 1999, p. 291-332.
Abstract
In September 1996, NewsPad—one of the first serious prototypes ever of the portable tablet computer went on show during Edinburgh's iTV96 Conference. The paper recounts and analyses the NewsPad experience and, simultaneously, tells a story of the explicit implementation of the sociotechnical constituencies theoretical approach to guide and inform the innovation process in highly uncertain conditions. The discussion is structured in short sections from the visions and realities of the portable tablet computer to the successful demonstration of the working NewsPad in Edinburgh.

Transforming visionary products into realities: Constituency-building and observacting in NewsPad (PDF Download Available).