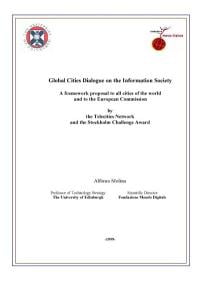 Global Cities Dialogue on the Information Society
This document presents a framework proposal for a Global Cities Dialogue to all the cities of the World and to the European Commission. It is the result of work by the Telecities Network and the Stockholm Challenge Award in the context of The Joint Political Platform Telecities-Stockholm Challenge Award (SCA).
Global Dialogues are an expression of the "European way" to help realise the potential of information-society technologies for the benefit of all countries, regions, cities and individuals. Europe is promoting international dialogues in the belief that the demands of globalisation and convergence of technologies and industries truly requires government, regulators andindustry to work together for the benefit of all.
The Global Cities Dialogue
TheGlobal Cities Dialogue (along with the Global Business Dialogue) is a timely and innovative response to both: (a) the challenge of globalisation, and (b) the importance of cities' sharing and transferring experiences in order to stimulate a global process of information-society learning and development.
Cities are the geographical, political, socio-economic and cultural entities
where millions live, work and directly exercise their rights as citizens and
consumers. The information society is a massive challenge and presents
cities with a barrageof issues, changes and opportunities from democracy to
more cost-effective services, including electronic commerce and others.
Most cities are only at the beginnings of the learning process and this
situation makes a Global Cities Dialogue a most relevant initiative to
advance the information society across the globe, helping to reduce the gap
between information-rich and information-poor societies. It will also
provide a mechanism for an informed interaction with the private sector at
local, European and global levels.