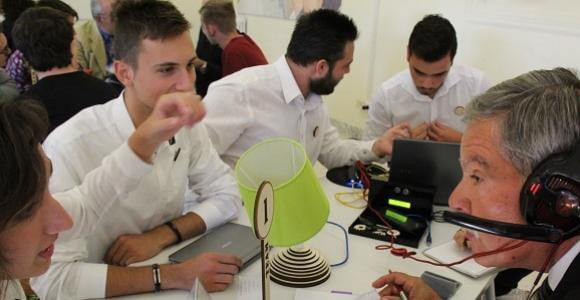 Phyrtual Factory
The pre-accelerator for youth
The only accelerator that accompanies young people from the personal ecosystem to the innovation ecosystem
The Phyrtual Factory fills a training vacuum: there are accelerators, incubators, spinoffs, paths dedicated to startuppers and future entrepreneurs, but there is no educational path dedicated to experimental self-entrepreneurship that engages and includes all young people in Italy.
Phyrtual Factory offers several digital learning and design environments to build shared models of innovation, linked to the big technology corporations that invest in open innovation.
The Phyrtual Factory Model:
It is aimed at young people still in training, at school or at university. With links to sandwich paths and creative formats (School Jam, Game Jam, hackathon etc.)
It is a complete training course that offers all the tools to become self-employed entrepreneurs
It provides the young with digital labs with state-of-the-art technology – from 3D modeling software to digital numerical control machines for digital manufacture
Coaches and classroom tutors combine the professional successful profile, accredited by prizes and awards – undisputed educational capacities
It is included in the Innovation Gym that already attracts investments from large corporations (Google, Microsoft, Cisco, Epson, Ericsson etc.)
The working methodology is shared and collaborative. It is not selective but inclusive
Training is not intended solely for the start-up model. Young people are also supported by business coaches (innovative company) or coop manager (social cooperative or innovative social start-ups)
Intersecting with women entrepreneurship projects (only 13.7% of innovative start-ups are driven by women)
International format links to robotics, automation, makers, digital art etc. (RomeCup, Media Art Festival, Rome Maker Faire etc.)
It is embedded in a system of "hybrid" – also institutional – alliances (systemic approach)
THE TRAINING PROGRAMME
Auto-entrepreneurship for the complex world of the 21st century
An innovative educational path that involves young people in a pragmatic project to learn, create, share and achieve important results in a short time.
Every one of us must be able to create a holistic narrative that reinforces self-concept, self-esteem, and self-efficacy in building a targeted life to fulfill rich human potential. This is the central objective of the training programme, structured in units of 3 and 4 hours. The units consist of one or two training sections.
The educational, experimental and project-based approach uses a rich variety of activities and tools (multi-mode): groupwork, games, visualization tools (trees, canvass etc), role-playing, videos, testimonials, expert lecturing, video-conferencing, assignments, pitches, peer-assessment etc.