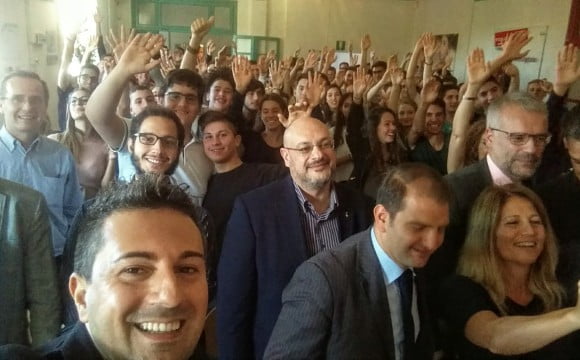 #PIW2016 Day Five
According to the Eurydice "Entrepreneurship Education at School in Europe 2016" Report (EU Commission, Brussels, 2016), no member state has successfully integrated entrepreneurship in its educational system. What results can be achieved with a national strategy to curb youth unemployment in a country with an economy bound to SMEs like Italy?
GENERATION IN TRANSITION.
LAUNCH OF THE PHYRTUAL FACTORY: A PRE-ACCELERATOR AT THE PHYRTUAL INNOVATION GYM
Friday, October 7 -10 am
Phyrtual Innovation Gym, Rome
Today, Friday, October 7, the Phyrtual Innovation Gym will host the presentation of the PHYRTUAL FACTORY, the first pre-accelerator for youth that will support young men and women while they are still studying at school or university. It's not an incubator, not a spin-off, not a start-up accelerator, but a true factory where young men and women can enjoy environments to learn, create and reach important results quickly, learning to transform ideas into action.
With the Phyrtual Factory, the Fondazione Mondo Digitale extends the successful formula of the Officina – New Jobs Workshop, the project supported by Google.org to improve the digital skills of young men and women looking for work. In two years, over 20,000 individuals aged 15-29 participated in the Officina – New Jobs Workshop labs.
During her visit to the Phyrtual Innovation Gym, Jacqueline Fuller, Director of Google.org, declared that the "model proposed by the Officina – New Jobs Workshop Officina should be implemented throughout Europe. It is one of the best digital skill educational projects that I have ever seen."
This is why the Fondazione Mondo Digitale has decided to embark on a new challenge: self-enterprise education, based on digital skills, for young men and women still in school or university. The objective is to continue tackling the NEET phenomenon and youth unemployment, to continue networking with an original contest for craftsmen, makers, professionals, etc.
Moderator: Giorgio Pacifici, TG2 Journalist
Speakers
Gabriella Barone, Manager, Placement Italia Camp srl
Diego Ciulli, Manager, Public Policy at Google
Giacomo D'Arrigo, Director General, National Youth Agency (ANG)
Alfonso Molina, Scientific Director, Fondazione Mondo Digitale
Domenico Nesci, Partner, LVenture Group
Ilaria Potito, TIM #Wcap Accelerator
The event is part of the first edition of the Phyrtual Innovation Week (Rome, Octo. 3-8) held at the Phyrtual Innovation Gym and the Rome Campidoglio: an entire week of events to debate with experts and ICT managers to learn more about best didactic practices, experiment with innovative tools and the new digital environments at the Phyrtual Innovation Gym.
Full Programme  [pdf]
Live tweeting with hashtag #PIW2016