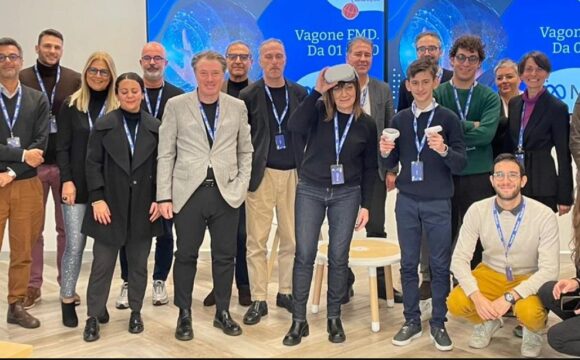 Multidimensional Experiences in the Metaverse
The impact of new technology on the music industry, a debate at Binario F with Vagone FMD
After the first three sessions dedicated to the use of the Metaverse for cultural heritage [see news: Metaverse Trials …], training [see news: Immersive Technology for Didactic Activities] and the tourism sector, yesterday, Binario F hosted the fourth meeting of the new Vagone FMD. From 01 to 100 in the Metaverse Programme, developed with Meta. Policymakers and stakeholders explored the operation of the Metaverse to identify possible areas of application, especially for public utility. Short interactive sessions allowed participants to enjoy a complete experience that could be replicated various times to focus on new tools and scenarios.
Here are the ideas that emerged from the fourth appointment – Music in the Metaverse – as summarised by Riccardo Russo and Onelia Onorati.
Alfonso Molina, Scientific Director, Fondazione Mondo Digitale – The Metaverse has emerged as an enormous force. We are facing an exciting new vision. There are many metaverses, an ecosystem of elements that converges towards a new, imaginary world, an immersive, multisensory experience that allows us to feel inside another world. These meetings explore the Metaverse and all areas of relative interest.
Flavio Arzarello, Public Policy Manager, Meta Italy, Malta and Cyprus – The Metaverse is an absolute priority for us, as you can surmise from our company's name. We have a vision of the future. However, one thing ust be made clear: we will not build the Metaverse alone. We are just one of the many companies that are developing a new approach to the Internet. The Metaverse will allow us to enjoy experiences at 360 degrees, making previously unimaginable things come true. Two main trends must be emphasised. The first is what guides our work: technology takes hold when it solves people's problems. In terms of music, more specifically, we want to move from the age of possession (CD, vinyl) to an Era of Access. The second issue is that we need to develop accessible devices that are increasingly less cumbersome. Moreover, experiences must be interoperable. As an evolution of the Internet, the Metaverse will have an architecture organized in levels and provide a series of services. Users will be able to move from one service to another. This will lead to the development of a creator economy, in which anyone can propose content.
Gianluca Polegri, Director, Digital Solutions Division, Engineering – Today, Metaverse means a lot of things. It is a three-dimensional Internet for immersive experiences. It is important to understand how technology evolves and which services we will use. However, we must also understand who these solutions involve, what are their targets, and consider any collateral effects, especially cultural ones. We have to ask ourselves: what can we do with it? What type of technology are we using? What is the business case? What is our starting point? We must understand what can represent added value to the integration of these solutions. We must be aware that any sector can be exploited in the Metaverse. And the big difference is its social nature.
Enzo Mazza, CEO, FIMI – Music is like water, it runs everywhere. If there is a new technology, music will pervade it. The industry is seeking to create value and wealth through it. Fandom will play a central role in the Metaverse. Thanks to technology and social media, the world of music has changed profoundly. Artists and fans are much closer than ever before and practically have daily contact. In this context, there are many different opportunities. The world of merchandising can be recreated in new formats: fans want to be close to performances. We can create virtual content similar to that of the physical world to provide fans with a new perspective and allow them to purchase or access content, virtual shops, or participate at concerts. One example, at a recent Muse concert, people could purchase the artist's clothing and see the concert dressed in the same way. This technology will integrate live events.
Lino Prencipe, Director Digital & Business Development Sony Music Italy – Today, unlike in the past, artists are an asset at 360 degrees. Technological evolution has guided the consumption of content and allowed us to change our point of view. We can now speak to consumers. We have to understand what content users desire, as the Metaverse is all about enjoying content. The entertainment industry will have to place users at the centre of their experience. This will obviously also modify the music industry.
Mariella Nava, Singer and President "Suoni dall'Italia" – music has evolved, also thanks to new technology. We will have to improve audio and not only video to provide a high-quality musical experience.
Francesco Dobrovich, Creative Director, Videocittà – our audience wishes to enjoy an atmosphere that it does not experience in everyday life. And the immersive nature of this content is central, although, to date, technology is not fully sufficiently advanced. The visual aspect in the Metaverse will be fundamental to create new levels of dialogue with music.
Anna Lea Antolini, Professor, Sapienza University – I work on bodily experiential projects and believe that we will have to develop the sense of touch and gestures. I would be very interested in a development based on relation to the body.