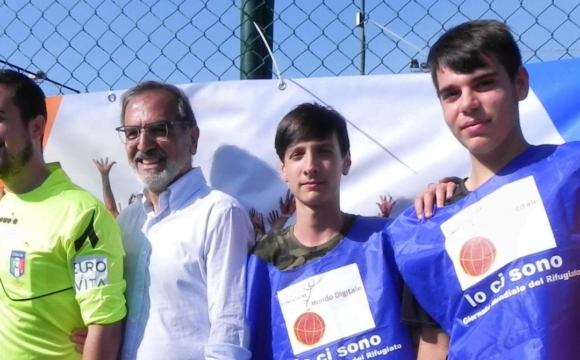 Alfonso Molina Greets Participants in Arghillà
World Refugee Day: today, the "I'm with You" solidarity football match
Today, at 6 pm, there will be the "I'm with You" solidarity football match at the Modenelle Sports Centre in the Arghillà neighbourhood of Reggio Calabria for World Refugee Day (June 20). This year, the tournament returns to Reggio Calabria, 200 kilometres from Cutro, where there was a terrible migrant massacre in February. Volunteers from associations and the church, refugees hosted by reception facilities, minors under judgement, students, athletes from local clubs and third sector operators will compete in the mixed-team football triangular tourney. The football pitch is in Arghillà, a neighbourhood in the metropolitan city of Reggio Calabria with a high rate of educational poverty and extreme social fragility. [see news: The Reception Challenge].
Here is the welcome speech that Alfonso Molina, who will not be able to be at the event, has prepared.
I am very pleased to be able to send my warm greetings to all the young people of Arghillà who will participate in the "I'm with You" solidarity football match promoted by the Fondazione Mondo Digitale for World Refugee Day 2023.

The Foundation has been organizing this very important event for more than 10 years to draw attention to the difficult and sad condition of life in which millions and millions of people are forced to leave their homes, their countries, to survive truly traumatic circumstances.

I still have fresh memories of my days as a refugee fleeing the violence of a coup d'état, of fear, with the hope of finding an outstretched hand willing to help me rebuild my life in another part of the planet. I was lucky to find that hand, that help, which welcomed me and gave me security and the opportunity to grow and make many of my dreams come true.

I hope that the same fortune touches the life of everyone, of every displaced person and refugee in the world. But this can only happen if the Italian government, together with Europe, and better yet with all the developed countries, are capable and willing to design and apply a reception policy where every migrant or economic, war, or climatic refugee is seen and treated with the dignity that all people deserve, as a fundamental human right.

It is not easy, but it is not impossible because as we know: "where there is the will, there is the way."

In its small way, the "I'm with You" solidarity football match demonstrates our strong will to be together with those who are looking for a new path to well-being. It is a strong reason to celebrate the human solidarity shown by all the young people participating in the Arghillà event, and to thank the Provincial Committee of the Italian Sports Centre (CSI) for its precious collaboration, and the Municipality of Reggio Calabria for its patronage.

A solidary greeting to all of you.