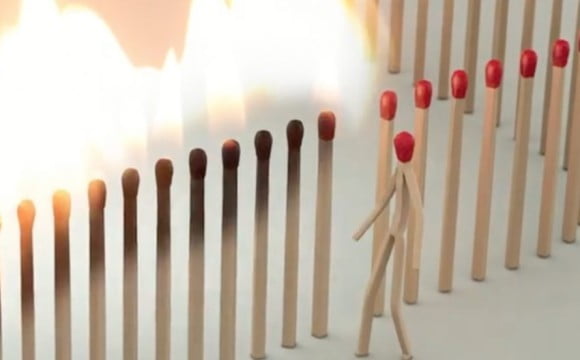 Today and Tomorrow
Italy has become the frontline of a war amongst species.
The "invisible enemy" of humanity, Covid-19, is retreating in China and South Korea, but is now causing a high number of victims in Italy, especially amongst the elderly population. The country is gripped by fear as containment measures continue to be tightened.
In this difficult moment, our hope is based on the abilities, spirit of sacrifice and profound love for others demonstrated by all the people who are daily facing this insidious enemy and trying to save the lives of those infected and fighting to survive. Doctors, nurses, health workers and assistants are fighting in the "trenches" of this war. They are conducting extremely risky operations that put their own lives at risk to help other humans who have been struck by the virus.
We are called upon to profoundly modify our behaviour. Most of the population is locked up at home, following the government's (not always clear) orders. Unfortunately, however, there is a part of the population that continues to ignore the recommendations and prohibitions. In Lombardy, for example, it appears that 40% of the population continues to move around, notwithstanding the peak contagion period.
We participated with heartfelt sincerity in applauding doctors and nurses and singing from our balconies. We appreciated the commitment of taxi drivers to give free rides to medical personnel. In general, people have expressed their solidarity through videos, poems, etc. in this dramatic period.
In the meantime, editorialists and commentators have been reflecting on the aftermath, on what will happen once the country has defeated this invisible enemy. The feeling is that nothing will be as it was before, that this novel war between species will permanently improve our behaviour. We imagine, for example, that the conflictual, oppositional and divisive behaviour of Italian politicians will be replaced by new social and political responsibilities, just as happened after the Second World War. A new and more mature awareness will also allow us to pay the due homage to the suffering, sacrifice and solidarity of those who contributed to the victory of humanity.
All of us at the Fondazione Mondo Digitale also want to help all those providing services to citizens, all those on the front line against the Coronavirus, collecting and sharing the ideas and reflections of our community.
We are asking you for two types of contributions that can be addressed to futuro@mondodigitale.org
Notes of thanks and support to all those on the front line;
Ideas and reflections on our future, once the emergency comes to an end. What actions should we undertake? What collective changes are you hoping will take place in the social behaviour of Italians?
Thanks!
The image is taken from the video on the social distance of the visual artists Juan Delcan and Valentina Izaguirre.