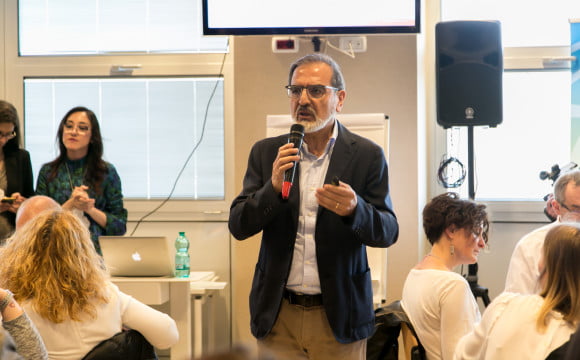 RomeCup Focus
Amidst artificial intelligence, connections to our nervous system, cyborgs, androids and human body part replacements, how is our idea of "human" changing? How is the work market changing? The convergence of a range of different disciplines, from mechatronics and bionics to neuroscience and medicine, is leading to the development of increasingly perfect systems that are capable not only of interacting and collaborating with mankind, but also of imitating our behaviour. Robots are leaving factories and entering our houses, hospitals and surgical theatres, as well as more hostile environments such as ocean floors and under earthquake rubble.
We will address these issues with international experts at RomeCup 2018, the event promoted by the Fondazione Mondo Digitale, in collaboration, this year, with the Rome "Campus Bio-Medico" University, which will be held on April 16-18 at the university and at the Rome Campidoglio. Partners of the twelfth edition include: Lazio Innova (main partner), TIM, Olivetti, Enea, MSD Italia, Unindustria, Masmec and Inail. Media partners are Radio Rai 1 and Studenti. The initiative has the patronage of Roma Capitale, Roma Semplice Council, Regione Lazio and the American Embassy in Italy.
The twelfth edition of the RomeCup confirms the successful multi-event formula: conferences, interactive talks and orientation for schools and creative university contexts; a showcase area with prototypes developed by students, research centres, universities, companies and start-ups; labs and robotics competitions, including the selection of the Italian teams that will participate in Robocup Junior in Canada.
For the first time, thanks to the collaboration with the Rome "Campus Bio-Medico" University, RomeCup will focus on Life Sciences, Robotics and Innovation, involving the entire biosciences system, one of the top sectors in Lazio. In collaboration with Lazio Innova, the Strategy Digilife Workout will involve SMEs and larger enterprises, innovative start-ups, spin-offs, universities, research centres, hospitals, and schools in an open innovation challenge to stimulate a creative and strategic exchange amongst the various players in the system and share resources to drive excellency.
In 2017, 142 student teams from 16 Italian Regions and 2 European countries, participated in RomeCup, over 3500 visitors viewed the exhibition and didactic labs and 25 speakers held conferences, round tables and interactive talks.
Over 5000 visitors are expected for the 2018 edition with Sapienza University of Rome, the Rome "Tor Vergata" University and the Bio-Robotics Institute from the Scuola Superiore Sant'Anna di Pisa. Moreover, the RomeCup 2018 collaborates with Make:Learn:Share:Europe (Erasmus+), Mathisis (Horizon 2020) and Mix User Experience – MUX in collaboration with the Rome "Palazzo delle Esposizioni" Exhibition Hall.