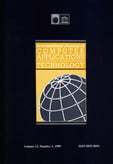 The transputer sociotechnical constituency: can Western Europe transform technical prowess into market prowess?
In: International Journal of Computer Applications in Technology,  Volume 3, Issue 4
New high–performance microprocessors and parallel computers are opening up opportunities for Western Europe to build a stronger international presence in the information technology arena. At present the transputer and transputer–based parallel computers are one of Western Europe's strongest technical cards. The author argues that technical virtuosity is not a sufficient condition to succeed in an international market populated by strong competitors. The United Kingdom and Western Europe are more likely to reap the benefits of their technical ingenuity if they are able to generate and implement strategies for the effective construction of strong sociotechnical constituencies. The paper introduces the concept of sociotechnical constituencies and analyses the opportunities and threats in the path of the present transputer constituency. Some broad guidelines for this constituency's further development are suggested.