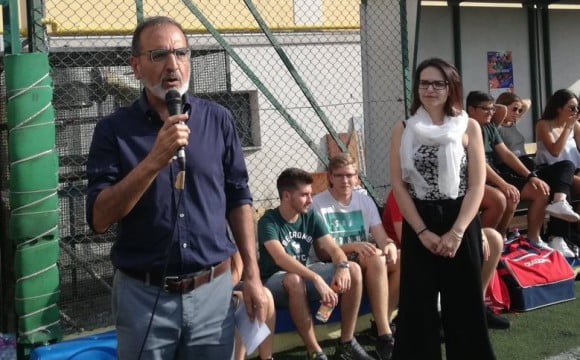 Promoting Acceptance
Yesterday, in three cities – Catania, Milan and Rome – students and refugees participated in the "I Am There" Event organised for World Refugee Day. The event is promoted by the Fondazione Mondo Digitale [see news: "I Am There. And You?].
Here is the message of Alfonso Molina, Scientific Director of the Fondazione Mondo Digitale.
"I AM THERE" – JUNE 20, 2018
WORLD REFUGEE DAY
MILAN, ROME, CATANIA
It is a great pleasure to meet here for the ninth edition of the "I Am There" solidarity football match promoted by the Fondazione Mondo Digitale for the United Nations' World Refugee Day.
Once again, the initiative has received the patronage of the United Nations High Commission for Refugees (UNHCR), the Italian Referee Association (AIA), Radio Sapienza and "Più Culture" as media partners, "Shoot for Change" photographers, the protagonist of Digital Welcome, a European project for the inclusion of third country nationals and 21 public and private organisations and institutions in Catania, Rome and Milan. I can't mention all of them but would like to thank each one for being at our side.
Thank you! Thank you very much! Your participation is a strong and determined affirmation of the principle of solidarity with those who are suffering and are forced to leave their countries and risk everything in the hope of arriving in a better country to pursue their dreams through a fuller life for both themselves and their children. Many lose their lives in this desperate pursuit and its saddens us to see the rich European continent refuse to lend a helping hand to those who are in profound difficulty. We must be clear about this: desperate people, who risk everything to flee from fear, hunger and destruction, are not aware that they are causing problems to old Europe. Their only fault is that of desiring a better life, just like the rest of us.
Today's problems are the result of an inexistent effective and solidary answer by a united Europe, capable of promoting its dreams of liberty, equality and fraternity, which once – and not too long ago – the entire world shared.
There is no simple solution to the immigration problem. Surely, we need a combination of different solutions to manage the crisis, both in Europe and in the migrant's own countries. Even more in general, however, we must exhibit solidarity and fraternity with those who have lost everything in faraway lands and face great difficulties in the countries that welcome them. This is the only way in which we can avoid the exploitation of fear and poverty – and move forward towards a more welcoming world for everyone.
And this is why we extend our heartfelt welcome to the students from Italian schools and refugees, who, today, in Catania, Milan and Rome, come together with a football match to support refugee acceptance and shout "I Am There."
I wish all of you a great match!
Thank You!
Alfonso Molina
Scientific Director of the Fondazione Mondo Digitale