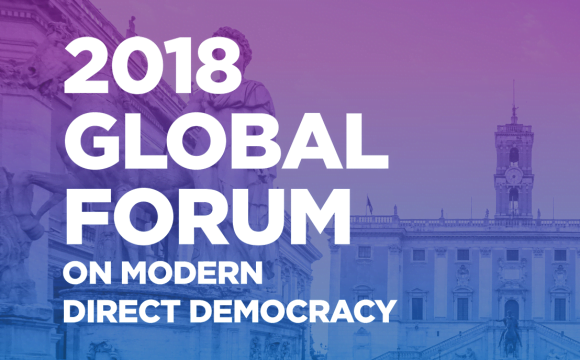 Global Forum 2018
On September 26-29, Rome will host the ​2018 Global Forum on Modern Direct Democracy.
The Global Forum, currently in the seventh edition after the events held in Switzerland, Korea, California, Uruguay, Tunisia and the Netherlands, is based on sharing and debate. Participants share knowledge and experiences about their cities with the objective of identifying the best practices for local democracy.
For the 2018 edition, "Rome's City Council has officially requested that the Global Forum produce a new Magna Charta of democratic cities around the world." Thus, the organisers indicate that "a continuous debate and the contribution of all forum participants will lead to the creation of a document indicating what cities should do in terms of elections, citizen participation, budget, planning, public areas and assistance, in order to be considered truly democratic."
Next Friday, Sept. 28, Alfonso Molina, Scientific Director of the Fondazione Mondo Digitale, will participate in the workshop on Digital Competences and Participation – The Experience of Rome [see full programme].

WS 11: Digital Competences and Participation – The Experience of Rome 
Campidoglio, Sept. 28, 3:00-6:10 pm, "Assessorato Roma Semplice" Hall
Public administrators and communication experts will address participation and new technologies, digital competences and how to contrast the digital divide, as strategic factors for the effective participation of citizens in public life. The "Punti Roma Facile" Project, which will be presented at the forum, is based on the network of assistance points that the Council of Rome provides to citizens to promote the use of new technologies and simplify relations with the public administration.
Moderator:
Flavia Marzano, "Roma Semplice" Councillor
Participants include:
Alfonso Molina, Scientific Director, Fondazione Mondo Digitale; Elena De Sanctis, Attilio Giannone, Roy Andrea Guido (Rome, District 7), Emma Pietrafesa (Stati Generali dell'Innovazione),  Nathan Gardels (Berggruen Institute – The World Post), Giovanni Allegretti (Universidade de Coimbra), and Angelo Sturni (Rome).