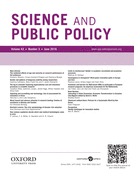 Emerging neural computing in the USA, Japan and UK/Europe
In: Science and Public Policy (1990) 17 (6): 363-371.
Neural networks seek to imitate the brain's networks of neurons. This is an emerging technology and brings with it some powerful interrelationships or 'constituencies' in the USA, Japan and UK/Europe. It is recommended that in devising a policy strategy, the UK should balance open and targeted development; the share of resources between development stages; individual and collaborative effort; British and European collaboration; and UK/Europe and global perspective.